Impounded Car Insurance UK report on recent figures showing that parents could be putting their children at risk by allowing them to drive a car that is insured in the parent's name.

16% of young drivers have admitted to driving cars insured under their parent's names according to a new survey conducted by gocompare.com. The survey revealed that, for monetary reasons, many parents were taking out insurance with their names as the main driver despite the fact that their children were regularly driving the cars.
This attempt to cut down on motoring costs for young drivers is a risky one, with insurance industry experts cautioning that this practise can have serious financial and legal implications, including the policy provider refusing to settle any future claims if you're found out. In this case, it's the young driver who will suffer as in the eyes of the law, they're uninsured from then on, leading to possible large fines, driving bans and possibly prosecution.
On top of this the young driver may also face having their car seized by the police for driving without a valid motor insurance policy. This means that on top of other fines handed out for the offence, the driver will also need to take out a special impounded car insurance policy to collect their car from the impound.
Finding impounded car insurance can itself be a costly procedure, but waiting too long to collect your car could mean that you will lose it completely as it will be sent to be crushed or even sold at a seized car auction.
The survey revealed that 24% of 17-19 year olds are often struggling to keep their cars on the road due to the lack of affordability for young drivers, with 30% saying their parents had to help out with the costs. This is obviously less than surprising, as it costs an average total of £1753.34 a year in running costs, taking away around 22% of their income. 16% of the 17-19 year olds claimed that it cost them more than £3000 a year, more than £250 a month, to run their cars and keep them on the road.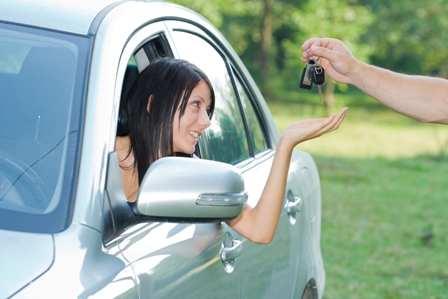 The head of car insurance at Go Compare, Scott Kelly, was sympathetic towards young drivers; it's understood across the country that of course it's difficult to get your first car on the road. The costs are seemingly sky high and young drivers will find that insurance premiums are incredibly substantial, especially for the new/inexperienced. This doesn't negate the dangers that can arise when a parent decides to front for their child in an attempt to reduce the cost of insurance cover.
This act, known as fronting, is fraud and could land your child in a significant amount of trouble. If you're found out, the policy will be rendered invalid, and you could even find yourself open to prosecution, having your car seized and being left responsible for police compound fees and the cost of an impounded car insurance policy. It's important that you find the car insurance that suits you, not only that gets you what you need but that will not find you plunging over half of your income into keeping your car on the road.
If your car has been confiscated by the police for a motoring offence such as driving without a valid insurance policy in place, Impounded Car Insurance UK can help you to obtain the seized car insurance policy that you will need to release your vehicle from the compound.